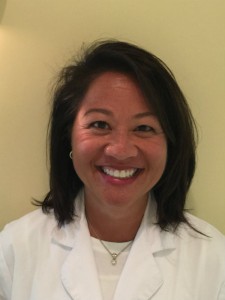 Dr. Foley is originally from California. She received her Bachelor of Science degree with honors from the University of Kansas and her Doctorate of Dental Science from the University of Missouri-Kansas City.
Prior to creating and opening the Biondo & Foley Dental Group in 2004, Dr. Foley practiced general dentistry in Kansas City, MO; Meriden, CT; and Andover, MA. Currently, she is a member of the Massachusetts Dental Society, American Dental Association, Merrimack Valley Dental Society and the Middlesex Regional Dental Society. Dr. Foley regularly attends many continuing education courses throughout the United States and is constantly enjoying learning the latest and the best that Dentistry has to offer. She is also certified yearly in CPR with AED usage, first aid, infection control, pain management and OSHA standards as certified by the state of Massachusetts.
Dr. Foley resides in North Andover, MA with her husband, Robert Foley and their son Ryan. In her free time she enjoys keeping up with all of Ryan's activities, shopping for bargains and travelling all around the world. She also enjoys being active in the local Filipino school, Iskwelahang Pilipino.
Dr. Foley's favorite part of her profession is building relationships with her patients and seeing them grow and change over the years. Dr. Foley stated, "It is so amazing and humbling to see how many patients have followed Dr. Biondo and I from dental office to dental office over the years. These long term relationships are built on such trust and we treasure them fully. It is so rewarding to treat many generations of families from the great grandparents down to their children's children. Over the years many patients have become like family to us, which is such a blessing!"